<< Back to Home
Success Stories
At the UTSA Small Business Development Center (SBDC), we are doing our part to help entrepreneurs in Bexar and the 10 surrounding counties through this unprecedented time. Since 1987, the UTSA SBDC has given back to the business community and helped to shape the economic future of entrepreneurs and small business owners by facilitating the creation, expansion and retention of businesses through no-cost, one-on-one business advising and workshops. Learn more about our services and how we can help you at sasbdc.org.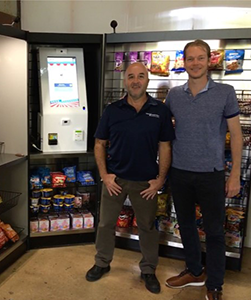 Parlevel Systems
Founded by pioneering technology professionals based in San Antonio, Texas, Parlevel Systems is a provider of innovative vending technology tools for the food and beverage industries. Their products bring cloud computing, just-in-time inventory management and data analytics to the vending machine industry that optimizes deliveries and product offerings while increasing profitability.
One of the Co-Founders and current CEO of Parlevel Systems, Luis Gonzalez, is a graduate of the University of Texas at San Antonio (UTSA) and previously served as a student intern at the UTSA SBDC International Trade Center where he gained firsthand knowledge on how to help entrepreneurs sell their goods and services all over the world. During the process of starting Parlevel Systems, Luis became a client of the UTSA SBDC. At the UTSA SBDC, Luis received technical and financial advising, as well as market research for the U.S. market that enabled them to develop software and hardware prototypes and obtain seed capital that launched Parlevel Systems in 2013.
As Parlevel Systems expanded in the U.S. market with the support of the UTSA SBDC, they saw an opportunity to expand into international markets. Gabriel Senior, Parlevel Systems COO, contacted the UTSA SBDC International Trade Center for assistance with international market research, industry and competition analyses, and distribution channel information. Thanks to the advising support of Sr. International Business Advisor, Julio Garcia de las Mestas, Parlevel Systems began selling their innovative products in Australia, Chile, France, Mexico, New Zealand and the United Kingdom.
Being a proactive client with an innovative product, Parlevel Systems was selected for the second Internationalization Pilot Program of the UTSA Center for Global Development. The objective of the Internationalization Pilot Program is to facilitate trade opportunities among clients of SBDC networks located throughout the Americas. Thanks to the potential buyers identified by the Servicio Nacional de Aprendizaje (SENA) SBDC Network in Colombia and with the advising provided by Julio, Parlevel Systems signed several contracts with Colombian clients, began to market products and services in Colombia and hired a sales representative in Bogotá to support their expansion in this new foreign market.
In response to the COVID-19 pandemic, Parlevel Systems began creating tools that would be useful for consumers during the global crisis. The company determined that due to state lockdown restrictions, there was a need to expand their micro market productions into more apartment complexes and office buildings. They also realized that home delivery options were growing worldwide. In response, they launched their Parlevel Run tool which is a home delivery operating system for their micro market, vending, and coffee operators. Through this system, customers could use existing vending technology tools to sell products online and have these products delivered to end users. This operating system would in effect allow their customers to continue to sell their products even during the pandemic.
To help Parlevel Systems through the pandemic, Julio provided COVID-19 resources to help the company apply for federal loans and grants. In 2020, Parlevel Systems was awarded an Economic Injury Disaster Loan for $150,000 and a Paycheck Protection Program loan for $513,000 that helped retain talented staff. The UTSA SBDC International Trade Center also conducted market research on the apartment complex industry and compiled a list of potential customers so that the company could sell their new technology. This information was useful for Parlevel Systems to determine what region of the U.S. to focus resources on and to determine possible new customers.
In just seven years Parlevel Systems went from being a start-up to a successful exporting company with a global presence in 22 countries. The company was even able to expand their product line and continue to grow during a global pandemic. "The SBDC provided high value assistance, research, and guidance, vital help for a young company like ours", said Gabriel. Parlevel Systems represents a great example of how SBDCs successfully help local businesses start, grow and thrive.
Hayward Gaude Photography | Making the Best of Times During COVID-19
Hayward and Shannon Gaude own Hayward Gaude Photography and have been clients of the UTSA SBDC since 2013 and in business for over 10 years. The Gaudes tragically lost their family's visual legacy during Hurricane Katrina, which spurred their relocation to San Antonio. The Hayward's experience gives them a unique connection with their clients and a deep understanding of the priceless meaning behind portrait photography.
Just like all small businesses, they have been affected by the COVID-19 pandemic and have had to adapt their business model to the limitations on an art that requires being in the same space as their customers. They began by creating new marketing materials communicating how much they miss their clients, calling them "hug" cards. They also began contact-less delivery of clients' portraits that were completed prior to the stay-at-home orders, because they did not want families to have to risk coming to them or waiting to receive their cherished memories.
They have also created a YouTube channel, where they interview other local small business owners to discuss what they are currently focusing on and how they are preparing for recovery. Their weekly postings serve as encouragement and a sense of community that small businesses are not in this alone.
The Haywards also wanted to find a way to show their gratitude to the heroes on the front lines helping our community fight against COVID-19 in keeping our essential services open. "Portraits for Heroes" allows people to submit information about the hero in their life and in return their hero will receive a gift voucher for a signature studio portrait session. They have been able to gift 20 local heroes.
The Haywards are receiving current assistance from UTSA SBDC's Senior Advisors Crystal Darby and Patrice McElfresh through guidance in applying for SBA disaster relief funding and staying informed of available options.
Visit Hayward Gaude Photography Online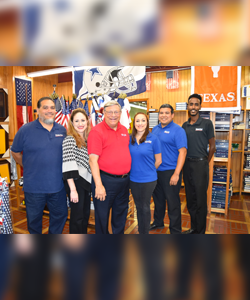 Dixie Flag & Banner Company
A legacy client of UTSA SBDC since 1993, Dixie Flag and Banner Company has experienced exponential growth since Chairman Henry "Pete" Van de Putte, Jr. first received assistance on an SBA loan that would finance expansion into a 13,000 square-foot facility. A manufacturer of flags and banners since 1958, the company has evolved into a trusted industry leader and its work can be seen across some of the most esteemed and recognized venues in the U.S.
Dixie Flag's relationship with the UTSA SBDC would develop over the next two decades, as would its own leadership. Now a third-generation company led by Pete's daughter, Vanessa Van de Putte, President and CEO, multiple Dixie Flag employees have gone beyond advising with current Senior Business Advisor Crystal Darby and engaged in UTSA SBDC's Building Business Excellence (BBE) course. The seven-week strategic leadership program supports established companies scale up. Dixie Flag has since adopted the Values Based Leadership (VBL) facet of the BBE training and regularly sends new employees through the annual program. The nationally regarded professional development tool created by HOLT CAT is practiced by prominent organizations including the San Antonio Spurs.
The Outcome: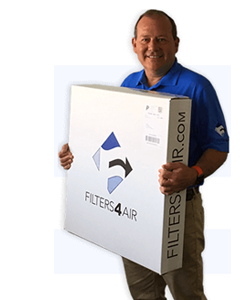 Filters4Air (Filtration Products) - David Dilling, President
Since 1995, Filtration Products has manufactured air filters for HVAC systems. The company is owned by David Dilling. Other companies in San Antonio resell air filters, but Filtration Products is the only manufacturer of filters in South Texas. The company's products are used in professional office buildings, retail centers, hotels, restaurants, and hospitals, and are sold to distribution companies and air conditioning service companies as well as individual homeowners. The pleated air filters are of high quality and can be manufactured in any size needed for every business application.
Dilling came to the SBDC initially for help with his website and marketing his business. Senior Business Advisor Crystal Darby helped with updates to his website and assisted him in obtaining publicity in the San Antonio Express-News about his home delivery service. Crystal also helped him prepare for government contracting. She researched the GSA pricing of his competitors and helped him put together a price list which he has used for several government bids, including the City of San Antonio and CPS Energy.
With the onset of the COVID-19 pandemic, Dilling has had to rapidly innovate. His new focus as a result is offering their same quality air filter that they have been manufacturing for government, commercial, and residential facilities for the past 25 years and turning them into inserts for face masks.
"We are used to protecting hospitals and military bases from dust, allergens, and other airborne contaminants," says Dilling. "Now we can give individuals that same protection, just in a smaller, portable size."
Filter inserts convert cloth masks to M14 / 95 protection. They are 5-inches by 6.75-inches, the right size to slip into a pocket or lining in a face mask.
Filters4Air has donated filters locally in San Antonio, while also offering individual and wholesale options. "Our service in San Antonio is contact-less, and we ship nationally as well. We take the stress away from measuring air filters, going to the store, and searching shelves," Dilling says.
For more information on Filtration Products and their services visit Filters4Air.com.